PDF



Short for Portable Data File, PDF is a type of file that was developed by Adobe (has FTP info.) that enables users to capture the format and overall appearance of a document and have that viewed exactly the same and printed exactly the same as any other computer with a PDF viewer. If you want to know more about how to create (WRITE) these files, click here, but if all you need to do is to READ them follow the instructions below (if your system cannot already recognize PDF files automatically). If you click on a PDF file (often located on the web) and it does NOT open automatically read the instructions below. You may need to install a PDF reader:
FREE Adobe Acrobat Reader can be found at the ADOBE web site http://www.adobe.com/products/acrobat/readermain.html
but here is a more direct link for the latest version (Reader 7.0) for FREE ....HERE>> http://www.adobe.com/products/acrobat/readstep2.html
For XP, without Photoshop or Yahoo toobar << click here >>>


...or if you like an older version free >> http://www.download.com/3002-2378-8338119.html?tag=dir (Version 5.0.5)
or... free Acrobat 6.0 Professional trial (BUT... you have to pay in 30 days)

You can either OPEN or SAVE the file or "*.exe" However, unless you know how to find it after you save it, just OPEN it and that will automatically install the program on your computer (and associate the PDF extension with Adobe, thus eliminating the need for you to do anything else.)
Version 7.0 installs somewhat differently (in stages), but just follow the instructions.

Also see: File extensions
To check / change your "ASSOCIATION type" do the following: ( http://www.computerhope.com/issues/ch000572.htm )
On the Desktop, or in Windows Explorer, right-click the My Computer icon.
Select the menu choice Open.
In the My Computer window, open the View menu and select Options....
Open the File Types tab.

Scroll and look for PDF File in the list of different file types (alphabetically ordered) like in the image below.

Make sure to select ADOBE Acrobat as the program to open PDF files. (more detail below)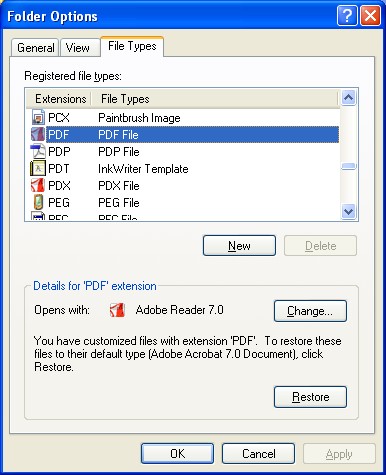 You can also go to EXPLORER and click TOOLS, FOLDER OPTIONS, FILE TYPES.
Modifying the actions of a file type:
Locate the file extension you wish to modify and highlight it (PDF -- as seen above).
Press the letter "p" on your keyboard and the list will automatically jump (scroll) down to the first listing that begins with the letter "p". If not, you locate the file extension by placing your cursor anywhere within the window under "Registered File Types" and clicking once on any of the listings there. (That locks the cursor in in the window.) Press the letter "p" on your keyboard and the list will automatically jump (scroll) down to the first listing that begins with the letter "p".

Continue to scroll down until the PDF extension appears in the window. Click on it to highlight it if it is not already highlighted and make sure that it is set to open with Adobe Acrobat Reader. If not, follow the next steps.
Click the "Edit" or "Change" button.
Select Adobe Acrobat under the "Recommended Programs". If not immediately visible, scroll down until you find it. If you do not find it, press the browse button and that should help you locate it. If you can't it that way, just click your START button (lower left-hand side of your screen in Windows) and use the SEARCH feature to locate Adobe. Then go back to the Folder Options window above and browse to that location.
Hope this helps.
Greg
P.S. For a while Version 5.05 was the latest version that was truly FREE and you won't need anything more sophisticated than that, if that's what you have and you want to keep using it. However, for you computer buffs (or those who may wish to update an earlier version), you can go here
http://www.adobe.com/support/downloads/main.html
for updates and/or patches.